Online Confirmation
Sunday, September 13 at 4 PM Sharp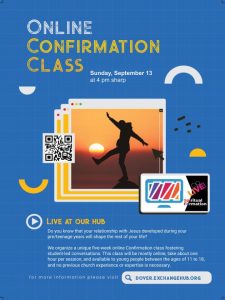 Do you know that your relationship with Jesus developed during your pre/teenage years will shape the rest of your life?
We organize a unique five-week online Confirmation class fostering student-led conversations. This class will be mostly online, take about one hour per session, and available to young people between the ages of 11 to 18, and no previous church experience or expertise is necessary.
Should you have any questions, please contact Pastor Larry Jameson (larryjameson@gmail.com) or Pastor Julie Lewis (revjulielewis@gmail.com).